According to the most recently available data from the California Department of Motor Vehicles, there are more than 857,000 motorcycles registered in the state, which surpasses all other states.
Whether you are an owner or a rider, you cannot take to the roads before taking steps to ensure that you comply with California motorcycle insurance requirements.
Complying with the law while also protecting yourself from significant financial risk in the event of an accident need not put a strain on your budget or time. The following information should help you to find the coverage you need at the most competitive rates.
California Motorcycle Insurance Requirements
Motorcycle insurance, commonly referred to as liability insurance, protects you against claims made by other people for personal injuries or property damage caused by accidents where you were at fault. The insurance company provides legal representation to defend you in the lawsuit and, if you are found to be at fault, pay the claim up to the coverage limits of the policy that you purchased. It does not, however, pay for your personal injuries or property damage.
Motorcycle Insurance Coverage Minimums
California requires that anyone who owns or rides a motorcycle must carry the following:
$15,000 for the death or bodily injury of one person.
$30,000 for death or bodily injury to two or more people.
$5,000 for damage to property.
These minimum coverages represent the maximum amount your insurance company will pay toward a claim filed against you by another party. You could be personally responsible for any damages in excess of the coverage limits, which is why it is a good idea to purchase more coverage than the state-required minimums. Discuss increasing the minimum coverages to find out what it will cost.
You also should consider adding the following coverages that pay you when you have personal injuries or property damage:
Uninsured and underinsured coverage: Uninsured coverage protects you when another motorist whose fault caused you to be injured does not have insurance. Underinsured coverage pays you when the liability insurance of an at-fault motorist is insufficient to pay for the damages you suffer in a crash.
Collision coverage: If your motorcycle is damaged in an accident, regardless of who was at fault, collision insurance pays to repair or replace it.
Comprehensive coverage: Damage caused by a hailstorm or by a falling tree limb could leave you with a sizable repair bill unless you have comprehensive coverage to pay it. Comprehensive insurance pays for damage to your motorcycle caused by mishaps unrelated to a collision, including theft and vandalism.
Once you decide on the coverage you desire, use it to find the cheapest motorcycle insurance quote.
Penalties for Not Having the Required Minimum Coverage
You must furnish proof of having at least the minimum insurance as required by state law when requested by a police officer. It is a traffic infraction to operate a motorcycle without insurance, which subjects you to the following penalties in California:
A minimum fine of $100 up to a maximum of $200 for a first offense.
A minimum fine of $200 up to a maximum of $500 for a subsequent offense committed within three years of a prior conviction.
A judge has the discretion to order that a motorcycle be impounded and not released to its owner until proof of insurance coverage is produced and all towing and storage fees are paid.
In addition to fines, not complying with motorcycle insurance requirements California also subjects you to the imposition of assessments. An assessment is an additional $26 for each $10 in fines imposed by a judge, so the first offense with a minimum fine of $100 would also carry with it an assessment of $260. For a subsequent offense within three years, the assessment could range from $520 to $1,300 depending upon the amount of the fine.
Motorcycle Insurance Cost in California
Several factors in addition to the types and amount of coverage you buy affect how much you pay for auto insurance. For example, the average annual cost of insuring a car in California, based on data we gathered from a number of available sources, is $1,868, which is 20% more than the national average. Some of the factors insurance companies use when quoting a price for a car or motorcycle policy include:
Driving record: A benefit of a clean driving record without any accidents or traffic violations may be lower insurance rates.
Zip Code: Where you live may increase the cost of insuring a motorcycle. If you live in a city where vandalism, traffic accidents, and vehicle thefts are common, expect to pay more.
Age: If you are a young driver with a clean driving record, your age may work against you. New or young drivers generally pay more than older, more experienced motorists. It may seem unfair, but according to the Centers for Disease Control and Prevention, drivers in the 16-19 age category are nearly three times more likely to be involved in a fatal crash.
Miles drove: Someone who takes a train or bus to work and only drives occasionally generally pays less than a driver who uses a vehicle every day. More miles may mean higher insurance rates.
Gender: This is another one of those things that may not seem fair, but there is statistical evidence to support insurance premium decisions based on the gender of a driver. Men have more accidents, including those involving alcohol or drugs, than do women.
Type of Motorcycle: New, high-priced vehicles are more likely to be stolen and cost more to repair and replace after an accident than older vehicles, which affects how much insurance companies charge. For more information on low-insurance motorcycles, read our article here.
Poor Credit: Insurers consider someone with a poor credit score to be more likely to file a claim than someone with good credit. It may not seem fair, but insurance companies support it based on their analysis of claims experience data.
License Status: You may want (or need) to purchase insurance for your motorcycle even if you have a suspended license, are looking to purchase a motorcycle for someone else as a gift, or own a vintage bike that is not being actively used. If this is the case, it is important to understand how your lack of a license can affect how much you will pay for insurance.
Motorcycle Insurance Average in California
Based on data collected from available resources, we found the average cost of motorcycle insurance in California to be $1,360. However, dramatic differences in rates make it essential that riders use this information as a base guideline.
For example, we used the California Department of Insurance comparison tool to check available rates for a motorcycle rider licensed for 6-8 years with a clean driving record who lives in Mariposa and logs between 5,000 to 7,500 miles a year riding a Harley Davidson. The results showed that companies in the state had annual premiums ranging from $220 to $1,108.
Motorcycle Insurance Averages by Age
Based on our research, here are the average annual motorcycle insurance premiums in the United States by age in 2020. The National average motorcycle insurance premium is $1,428 for an 18-year-old rider and $1,365 for a 21-year-old rider. Keep in mind that these numbers are from National research but you can expect similar cost ratios in California.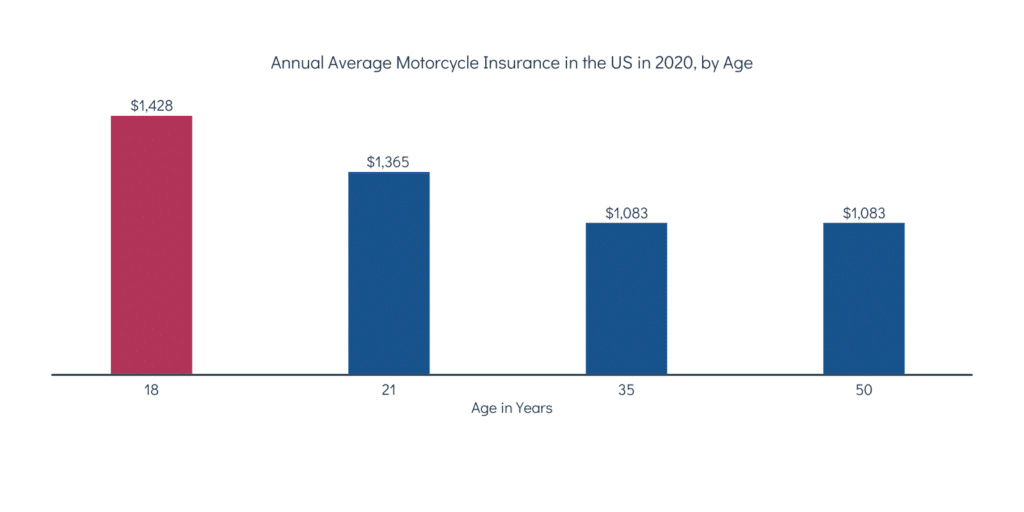 Motorcycle Insurance Averages by Region
Where you live in California greatly affects how much you pay to insure a motorcycle.
To show how location plays a part in the cost of insurance, go back to the rider living in San Diego who we discussed in the section about the average cost of insurance in California.
The same rider living in the Sunset District of San Francisco will find insurance rates to be higher with annual premiums ranging from $265 to $1,861 according to the California Department of Insurance.
Need Motorcycle Insurance?
Enjoy your ride while feeling safe with the best insurance coverage.
The Cheapest Motorcycle Insurance in California
Based on the research we conducted on the cheapest motorcycle insurance companies in California, Markel had the lowest rates with an average price of $746 per year. Geico came in at a close second with an average price of $788 per year. Esurance, Dairyland, and Progressive round out the list.
The Best Motorcycle Insurance in California
Customer service, availability of coverages specifically tailored for motorcyclists, and other factors about a particular company will influence your decision about where to purchase motorcycle insurance.
To help you find the best motorcycle insurance California has to offer, take a look at the following sections with the top-rated companies and our picks for the best motorcycle insurance companies in California.
The Best-Rated California Motorcycle Insurers
Two organizations, J.D. Power and the National Association of Insurance Commissioners (NAIC) rank the top insurers based on customer satisfaction. J.D. Power uses a point system with 1,000 points as the maximum an insurance company may achieve. NAIC uses a complaint index that measures consumer complaints against total premiums with a lower index indicating better performance by a company.
Companies issuing motorcycle insurance policies in California and their respective J.D. Power and NAIC ratings include the following:
| Company | J.D. Power | NAIC |
| --- | --- | --- |
| Markel | — | 0 |
| Nationwide | 797 | 0.54 |
| Geico | 828 | 0.92 |
| Esurance | 825 | 1.02 |
| Dairyland | — | 1.16 |
| Progressive | 823 | 1.86 |
The J.D. Power did not include Dairyland in its most recently published study. It also does not include companies that only offer motorcycle insurance, which explains why no rating is available for Markel Insurance Company.
Our Picks for The Best Motorcycle Insurance Companies in California
Based on cost, available coverage options, customer satisfaction, and other criteria, two companies stood out to us as the best motorcycle insurance companies in California. One of them, Geico, stood out as the overall best. Two others, Markel as a specialty insurer and Esurance with its coverage designed for touring, also stood out. The following are our selections with summaries of our reasons:
Best Overall: Geico
Its affordable pricing structure, available coverage options for motorcyclists, and customer service rating give Geico our nod as the best company for motorcycle insurance in California. Geico also offers accommodating bundling options for home and auto.
Best Specialty Coverage: Markel
As a specialty insurer offering coverages specifically tailored to motorcycles, Markel stands out with low rates even though you lose out on bundling your motorcycle insurance with other policies.
Best Coverage for Touring: Esurance
If you enjoy taking long trips across the state or across the country on your motorcycle, Esurance is a good choice for your motorcycle insurance. It offers trip interruption insurance that pays toward food, lodging, and transportation expenses in case an accident or mechanical issue occurs on a trip. It also offers coverage for aftermarket equipment, such as GPS, saddlebags, and other accessories you add to your motorcycle. If you are planning an overseas or foreign motorcycle trip, you can read more about international motorcycle insurance here.
If you want to get the best motorcycle insurance California has to offer, use the information we provided to choose a company and policy that gives you the best protection at an affordable price.