So you've decided to take a beginning motorcycling safety class and buy your first motorcycle. If we had to guess, you've been to a dealership to try out a few motorcycles and scoured the internet looking at what's available from each manufacturer and which motorcycles are the best fit for your height and size. The amount of motorcycles available on the market is staggering. Even if you have a basic idea of what you want to use the motorcycle for, there is an array of types that can get the job done.
If you're a few seasons into motorcycling, you may be ready to change or upgrade your motorcycle for a larger engine or a different type of motorcycle altogether. Everyone starts at the same beginning. When you decide to switch bikes which type is a personal choice. Again, the mix of motorcycles available to upgrade to is staggering. Whether you're buying new, or looking at a used motorcycle, it's important to understand your options. Here's a breakdown of the various types of motorcycles out there and a solid recommendation to think about for each one:
Standard
The standard type of motorcycle is a common favorite because it has a simple design and is suited for all purposes. It has variations from 125cc up to 1,000cc and can be fitted with luggage, a tank bag, and a different seat, and it makes a good first and all-around motorcycle to ride. It doesn't normally come with a large fairing on the front if it has one at all.
Ergonomics are pretty neutral as it isn't very forward-leaning or rearward reclining. Seat height is usually in the shorter to middle range and can fit almost everyone comfortably. We recommend looking at the Yamaha SR400 for a good all-around town motorcycle. It's not too large for a beginner, yet not too small for an experienced rider.

Cruiser
The cruiser, also nicknamed a chopper, was designed for cruising, hence, how it got its name. It typically has a little lower seat height, making it a good "cruising" around-town motorcycle, but with added luggage, it can make a good weekend rider. Again, the engine sizes vary from a small displacement engine to 1,000cc or more, depending on the brand. You may feel more like you're sitting in a cruiser than on it, but it's a great option for both new and experienced riders. When you imagine a cruiser (specifically a chopper), Harley-Davidson may be the first brand that comes to mind. We recommend looking at the H-D Low Rider for a good example of a cruiser. It's a low-slung motorcycle that can travel for miles and has a lot of accessories to make it a great motorcycle for a quick trip or a good weekend out on the road.

Sport Bike
The sports genre of motorcycles is meant for speed and agility with forward-leaning ergonomics ready to carve some corners while riding. One of the largest differences with a Sport-typemotorcycle is its weight. They are generally lighter motorcycles made from a lot of aluminum and lighter materials to increase side-to-side maneuverability. The seat height is usually on the higher end to lean the motorcycle farther without scraping foot pegs or fairings. Shorter riders may be on their tiptoes with the taller seat height. Suzuki is considered the starter of this type of motorcycle in the 1980s with the GSXR line-up. Still going strong today, we'd recommend looking at the Suzuki GSXR600 as a good motorcycle for this type. It has enough power to do everything, and with added accessories, it can be made into a comfortable (within reason) weekend sport-touring motorcycle.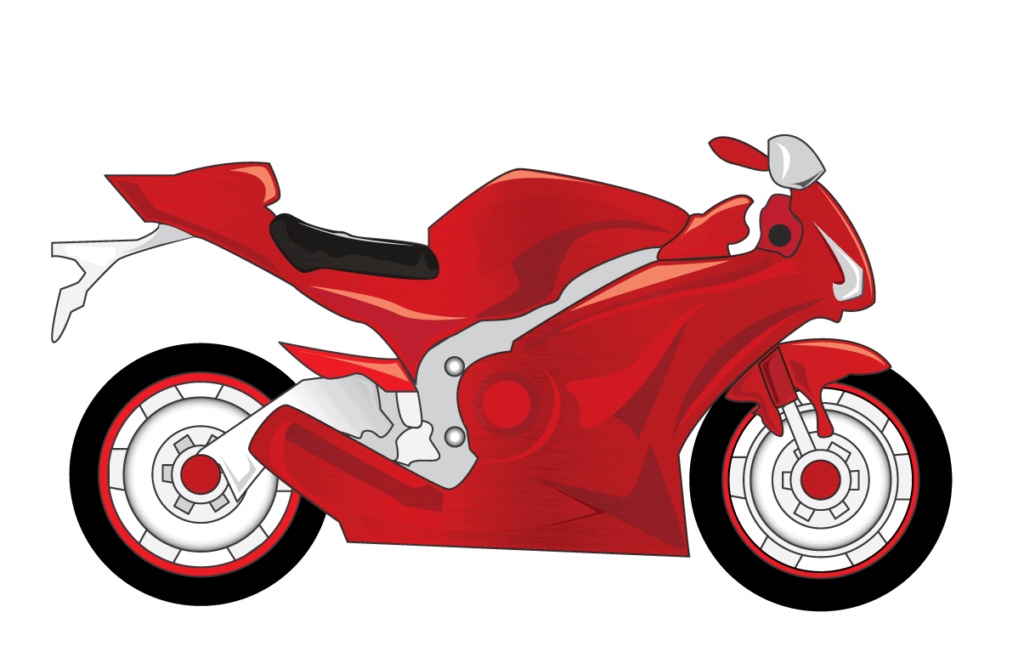 Touring
The Touring type of motorcycle is typically larger than most other motorcycles, and it's meant to have the amenities for cross-country touring to see the beaches on both coasts. They offer a large amount of storage with easy ergonomics that allow you to ride for hours. They will have the largest fairings to block the wind and weather while riding. Engine sizes are typically large to keep up highway speeds and haul a large amount of extra gear and clothes. The first thing you may think of for a Touring motorcycle is the Honda Goldwing. You commonly see them with 100,000 miles on the odometer, and the current owner may be the original owner with some big stories to tell about "that one time when…." They seem to last forever and can be great for a simple trip or a blast for the weekend to see the biggest ball of yarn in the US of A.

Sport Touring
The Sport Touring motorcycles are a solid mix between Sport and Touring, just as their name suggests. They are usually taller in seat height than a Touring motorcycle and have better luggage options than the Sport motorcycles for hauling extra gear on longer trips. They mix both styles well and with the right equipment can do it all between quick trips with friends or some of the longer road trips you've been thinking about. Engine sizes are usually in the mid-range to some of the larger available. Just use your best judgment for what size you need that will fit your riding style the best. Kawasaki makes a good Sport Touring motorcycle in the Concours14 ABS. It will hold quite a bit of extra gear and allow you to put on a lot of miles over a long weekend. The engine size is a little larger for the extra power to cruise the highways across the country.

Dual Sport (also known as Dual Purpose or Adventure Sport)
Dual Sports are meant to go anywhere and do anything. They bring the road features of lights and a horn but have more aggressive off-road suspension and possible knobby off-road tires. The seat height is generally a little taller to navigate the backroads and off-beaten paths you can find on the backroads. They typically have limited storage options from the dealership. Still, they can be outfitted with several extra bags to carry quite a bit of gear for a good weekend camping adventure. The BMW G 310 GS mixes off-road capability with sporty looks and feels that can do anything. It has a higher seat height but doesn't have too much power to make it a handful for a weekend ride. It can also do that if you want to go on a long cruise. Outfit it with all the necessary gear to make a few lasting memories.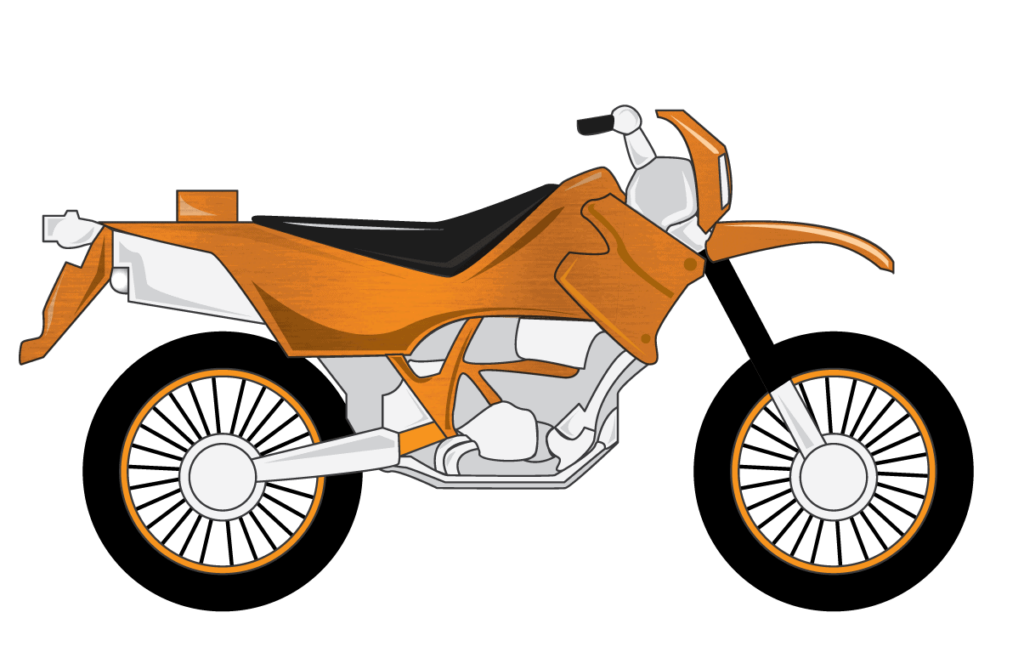 Want Cheaper
Motorcycle Insurance?
Start saving today with a free quote from our trusted insurance partner.
Scooter
Some may argue that a Scooter isn't a real motorcycle, but they can get you around in safety and style like their bigger siblings. Scooters are best suited for a metropolitan area that doesn't incorporate highway speeds. They are lightweight and low to the ground which makes them easy to navigate through city streets without having to muscle them around all day. They come in varying sizes, from 50cc through 500cc, and will have enough power to get you around your commute or a fun night on the town. They offer a smaller fairing with limited storage for a few items making them great to cruise around. The Honda Ruckus is a popular option for a Scooter that has a good lineup of accessories when you need to break out from the norm with a little extra flair on your ride.

Moped
Some may wonder if the Moped should be called a Scooter, or be a subcategory of the Scooter, but it is technically different. The Moped has a lighter frame based on a bicycle-style and a smaller engine (50cc or less) or even an electric motor in place of the engine. They are becoming harder to find in the United States, and if you do find them, they can be labeled "vintage'' They are lightweight and limited in power but have a retro-cool about them. They offer minimal to no storage and limited or no fairings to block the wind and weather. Most major motorcycle brands don't offer a true Moped, so take a look at some of the imported brands like TaoTao that offer a simple Moped to get you around on the city streets. TaoTao makes the Titan 50 (for 50cc) that has a little storage and fairing as an option.

Off-road
Off-road motorcycles are exactly what they sound like: for going where no man has been before. They have taller seat heights to accommodate deeper brush and high suspension that can handle a few bumps. They won't typically have any lights or turn signals, so they will probably be trailered to the weekend riding spot. Most are pretty lightweight and ready to ride the back trails all weekend. Kawasaki makes a good lineup for off-road motorcycles that don't break the bank. The KLX110 offers a 4-speed transmission with a clutch-less design that will make it easy on the hand and wrist all weekend to climb those steep hills to check out the view.

After reading all that, you may be swimming, thinking of how many options there are for motorcycles. Each brand has something in each of the major types, and even within those, they have multiple offerings that cover the different engine sizes and overall motorcycle sizes available. If you're not looking for a particular brand, take a pen and notepad and write down what you plan to use the motorcycle for. Once you know that, you can start to navigate what will fit you the best and also check out what safety features are available for each model. We covered that recently in this article if you're unsure how to check fitment. Once you have whittled down the contenders' list, you can check out the ratings from other riders, go to a local dealership to try on a few motorcycles, and finally find the perfect ride you've dreamed of. Be safe out there, and good luck!
Types of Motorcycles Infographic

Now that you've got a handle on the different types of motorcycles feel free to check out some of our current recommendations on choosing the safest motorcycle you can, as well as beginner motorcycles and gear. Feel to drop a comment below and let us know your favorite motorcycle and why!
FAQ
What is the most popular motorcycle type?
Depending on the region and nation, different motorbike models are more popular. The standard or naked bike is the most popular kind of motorcycle globally. This kind of motorbike is versatile, all-around, and can be utilized for various riding styles and reasons, from weekend rides to commuting.
What motorcycle type is best for beginners?
Usually, a standard or naked bike is the ideal motorbike for new riders. These motorcycles are easy to handle for beginner riders due to their simple design and neutral riding position. Other motorcycles appropriate for beginners are cruisers, which feature a low seat height and a relaxed riding position. It's crucial for new riders to pick a motorcycle they feel confident and at ease operating and to start with a smaller engine size suitable for their experience level.
What is the most popular motorcycle type in the USA?
In the United States, the most popular type of motorcycle is the cruiser. Popular cruiser models include the Harley-Davidson Softail and Touring models, Indian Chief, Honda Shadow, and Yamaha V-Star, among others.
What is the most suitable type of motorcycle for rural areas?
The most suitable type of motorcycle for rural areas depends on the specific needs and conditions of the area. Generally, a dual-sport or adventure motorcycle is a good option for rural areas because they are designed to handle both on and off-road conditions. Examples of dual-sport motorcycles include the Honda CRF450L, Yamaha WR250R, and KTM 500 EXC-F.
What is the most suitable type of motorcycle for urban areas?
The most suitable type of motorcycle for urban areas depends on several factors, like traffic conditions, road surface, and parking availability, among others. Generally, motorcycles that are lightweight, agile, and easy to maneuver are better suited for urban areas. Scooters are a popular choice for urban riders. Examples of scooters include the Honda PCX150, Yamaha NMAX, and Vespa Primavera.
Standard motorcycles with smaller engines are also good choices for urban riding. Standard motorcycles that work well in cities include the Yamaha MT-03, KTM 390 Duke, and Honda CB300R.
What type of motorcycle is more suitable for teenagers?
Motorcycles with smaller displacement engines, such as small sportbikes or standard motorcycles, are more suitable for teenagers as they are lightweight, easy to handle, and generally more affordable.