A Brief History of Lightweight Motorcycle Helmets
In 1914, a British physician, tired of seeing motorcycle head injuries every two weeks, came up with the first motorcycle helmet. Made of little more than stiff canvas covered in shellac, it still managed to do its job and saved a rider from a severe head injury in the 1914 Isle of Man race.
Today, modern helmets are considerably more sophisticated thanks to over a century of evolution and refinement. However, they are also much more substantial, with full-face helmets weighing up to 4 lbs. Modular helmets are even heavier due to their flip-up mechanisms. Then there are strict safety standards and accessories, all of which pile on weight.
To lessen the load, manufacturers came up with lightweight versions of motorcycle helmets. These helmets, made of sophisticated materials derived from racing and aerospace applications, offer adequate protection without the corresponding weight penalty.
Engineering of Lightweight Motorcycle Helmets
Motorcycle helmets have three components: the outer shell usually made of plastic polymers, an inner shell to cushion physical impact, and a liner for comfort.
For the outer shell, the typical helmet uses thermoplastic materials like polycarbonate or ABS. More expensive helmets use composite materials such as a mix of fiber and resin to lessen weight while retaining the same protection level. Premium helmets use exotic materials like carbon fiber and kevlar to offer the least possible weight.
For the inner layer, most manufacturers use expanded polystyrene foam or EPS(Extended Polystyrene). This layer is designed to crush upon impact to cushion the head.
Finally, there's the padding, which provides comfort and ensures a snug fit for those long hours of riding.
The thickness of the inner EPS layer and padding can also add weight, but not as considerably as the material used in the outer shell.
How Much Does Each Type of Motorcycle Helmet Weigh?
In terms of weight, "beanie" helmets are the lightest. Beanies are the modern evolution of the half-shell helmets now prohibited by the Motorcycle Safety Foundation. These cover only the top of the head and usually weigh below 3 lbs. However, they are the least safe type of helmet and may not be legal in some jurisdictions. They also require separate goggles.
Open face helmets come in second on the weight scale at just over 3 lbs. Also known as ¾ helmets, they offer more protection by covering the whole head and exposing the face. Some come with half or full-face visors.
Full-face helmets provide the most protection and are considered the safest because of their extensive coverage of the head and neck. They are distinguished from open face helmets by integrating a fixed chin bar at the expense of weight, which ranges from 3-4 lbs.
At the end of the scale are modular helmets, which combine the protection of full-face helmets with open face exposure in one flip. This design enables riders to lift the facial cover when desired without having to remove the whole helmet. While convenient, the hinge structure significantly adds weight, causing it to go over 4 lbs for most models.
The last factor that adds weight is accessories. These can include aftermarket visors, face shields, breath guards and deflectors, neck rolls, and even BlueTooth speakers.
Beyond hardware add-ons and simple accessories, some cutting-edge helmets integrate HUDs, augmented reality, and even voice assistant connectivity. While they can make you feel like Iron Man talking to your very own Jarvis, all these high-tech add-ons come at a stiff cost — not just for your pocket but for your neck.
What to Consider in a Lightweight Motorcycle Helment
Now that you know what goes into making a lightweight helmet, how do you pick the ideal one that's right for you?
Use – Are you looking for a helmet to commute with? Then full-face or modular might be the right choice to ensure maximum protection. Perhaps you're looking to gear up for the occasional joyride? A touring helmet might be more suitable for those long rides. For cruisers and bikes that use an upright riding position, modular helmets provide more visibility. If you like to hit the trail, a dual-sport design is right up your alley.
Cost – While the typical SNELL helmet can cost less than $200, top-tier helmets with premium lightweight construction can cost three times as much. Composite material helmets like carbon fiber weave and kevlar typically start at $500-600, so if you want an ultra-light bucket, be prepared to have an ultra-light wallet.
Safety – To shed excess weight where possible, some lightweight helmets may have a thinner or low-density EPS layer. Make sure to do your homework and look up the Snell rating, in addition to the DOT, European Standard, or SHARP rating for the helmet, depending on your location.
Expandability – Most lightweight helmets are stripped down to the basics, so make sure to factor in the upgrade options down the road. See if it's compatible with replacement liners or can accommodate sunscreen, BlueTooth headsets, and hydration packs. It's also worth researching what accessories there are for that specific helmet, and if they are aftermarket or proprietary. 
The Best Lightweight Helmets of 2022
With that out of the way, here are the best lightweight helmets you can buy this year, categorized by type and budget level.
Some of these categories overlap, and some helmets do have dual purposes. So if you dig one of our sport helmets but need a helmet for commuting, you can use the sport-helmet just fine. *Note that the listed prices of helmets are dependent on size and timeline
Top-Tier: Bell Eliminator Carbon
2.98 lbs
$549.99

This auto racing-inspired helmet boasts a 6k carbon fiber composite shell and a wide viewport for unparalleled peripheral awareness. It comes with Class 1 optics and Bell's Provision anti-fog insert. The EPS liner comes in five sizes, ensuring a comfortable fit. The helmet has excellent ventilation thanks to chin ducts and reinforced hole vents on the crown, and these can be plugged with an optional rain shield kit. Purchase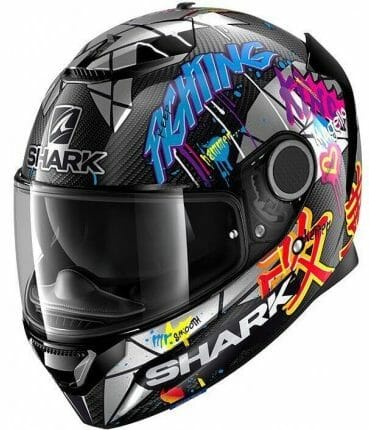 Mid-Tier: Shark Spartan 1.2 Carbon
2.8 lbs
$369.99

This carbon fiber version of the popular Shark Spartan costs about $50 more but shaves a full 100g of the weight. It also scored one-star higher (4 out of 5) on the SHARP safety test than its fiberglass cousin. Chin vents, a sports-inspired scoop on top, and two rear exhaust vents allow plenty of ventilation.

Despite its name, the Spartan manages to cram in several surprises in its light frame, including an internal sun visor and a Pinlock Max Vision anti-fog lens provision. Purchase
3 lbs
$199.99

The second-gen Strada uses a clean-sheet design for 2020, incorporating several improvements like better fit and ventilation. For a sub-$200 helmet, it has an impressive composite construction, with a fiberglass shell reinforced by Kevlar on top.

It comes with a Pinlock-ready face shield as well as a DOT and ECE-certified internal sun visor. Purchase
Top-Tier: AGV SportModular Carbon
2.85 lbs
$749.95

This no-compromise helmet uses just about every exotic material available on the market for a featherweight construction. The shell is made of 100% Formula 1-grade carbon fiber. The D-rings for the chin strap — made out of titanium. Also included in the box is a Pinlock 120 anti-fog insert, the company's highest spec visor. The result is the world's first full-carbon modular helmet, which is lighter than most professional MotoGP lids — even with its flip face design. Purchase
Mid-Tier: X-lite X-1004 Ultra N-Com
3.3 lbs
$459.96

This carbon fiber composite helmet improves on the X-1003 with a better air inlet design and an extended chin bar for better comfort. Inside the lid, there is a built-in VPS sunscreen visor and activated carbon liners with anti-bacterial and moisture-wicking properties. The padding is also glasses-friendly with contours for temple frames. Purchase
3.5 lbs
$209.95

This futuristic-looking helmet would not look out of place in the cockpit of a TIE fighter or an F-22. More than just looks, its 3-in-1 nature allows it to function as a half dome, open face, and full-face helmet in one sleek and stealthy-looking package. The shell is made out of polycarbonate, and the front mask and ¾ side plates are held in place by strong neodymium magnets. It comes with clear and smoked visors and is backed by a 5-year warranty. Purchase
Wondering if helmets are required in your state or one that you're passing through? Check out our state-by-state guide to motorcycle helmet laws to learn more.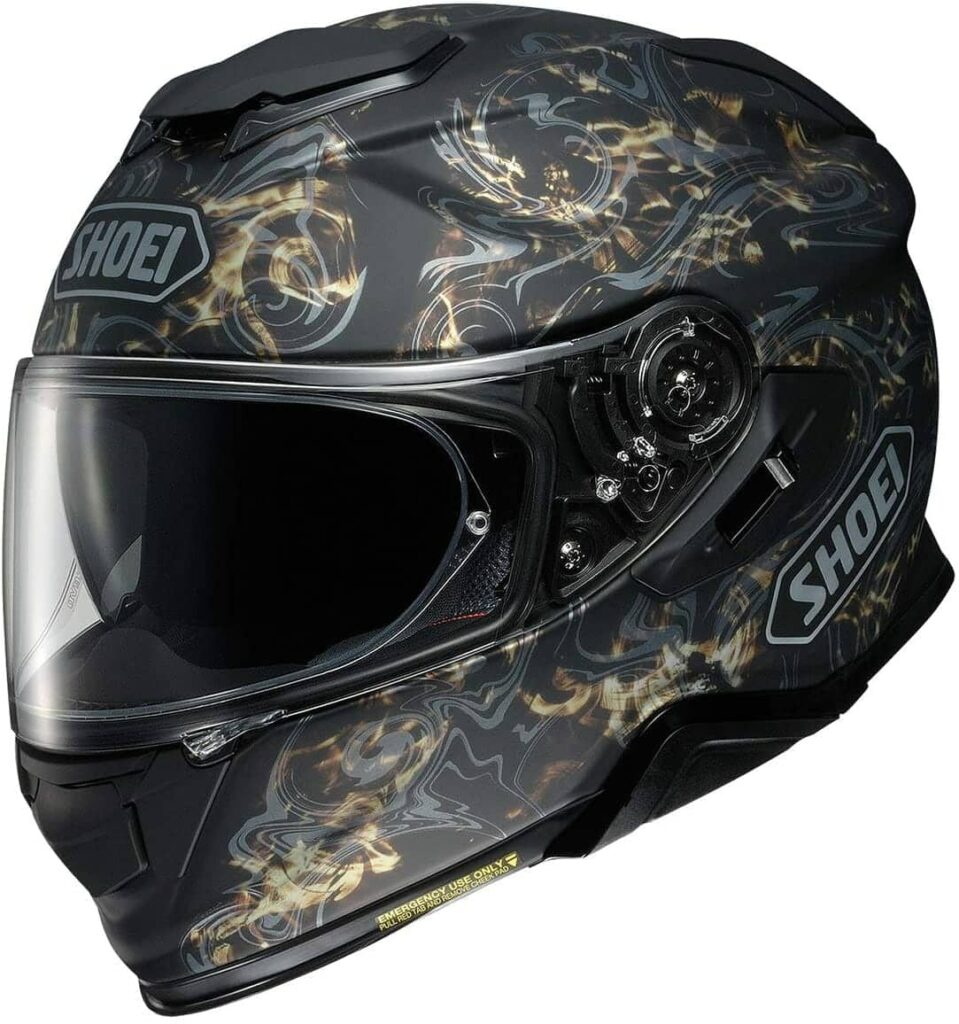 3 lbs
$649.99

A worthy successor to the original GT-Air, the second-gen bucket now has a higher forehead, a larger internal sun visor, and aerodynamic improvements to better channel slipstream and isolate noise — all are essential refinements for long hours of touring.

The shell is made from Shoei's Multi-Ply Matrix fiberglass composite, while the inner liner is composed of the company's proprietary Multi-Density EPS. This means the foam thickness varies according to the area where it's needed the most, lowering weight while improving protection. Purchase
3.5 lbs
$546.00

We felt this pick was on the high side for a mid-tier choice. However, this is one of Arai's most popular lineups. The Signet series has the classic long oval shape that suits the majority of American heads. Like its more rounded Quantum-X cousin, this helmet has a complex laminate shell.

The unique Pro Shade is a cross between a smoked face shield and dropdown sun visor. When up, it acts like a motocross peak to block sun glare; pull it down, and the tint covers most of the visor, leaving just a small clear strip at the bottom. Purchase
Budget: Bell Qualifier DLX
3 lbs
$157.99

This bang-for-the-buck touring helmet offers excellent value for its sub-$200 price. The face shield features Transitions photochromic treatment, which automatically darkens in harsh UV light. In addition to two chin inlets, there's also a brow vent that's rarely found in this price segment.

Other features include Bell's trademark ClickRelease system and built-in port that's compatible with Cardo and Sena comm systems. Purchase
Top-Tier: Shark Race-R Pro Carbon
2.75 lbs
$759.99

For a helmet that celebrates legendary MotoGP racer Jorge Lorenzo's final season, the Race-R fittingly uses MotoGP-level carbon/aramid fibers. Apart from its incredible lightness, the helmet's design is optimized for unmatched stability even at speeds of 300kph.

In terms of ventilation, there are no less than four air scoops and seven extractors, thanks to extensive wind tunnel testing. The Race-R Pro is 4.5dB quieter than its non-pro counterpart and holds a 5-star SHARP safety rating.

In the words of French Grand Prix and Superbike racer Randy de Puniet, "The Race-R Pro concentrates all what I am looking for in a helmet when riding my bike. In fact, it contributes to my riding performance." Purchase
3.3 lbs
$419.95

This sport touring helmet uses a carbon and fiberglass composite shell, which accounts for relatively low weight to counterbalance the complex visor mechanism. Inside are a low-profile and removable breath guard, split chin curtain, and internal visor. The visor has customizable detents that adjust to 5 different levels. Purchase
3.5 lbs
$149.99

It's immediately apparent this dual-sport helmet is designed for the adventure touring crowd. Constructed from sturdy ABS, it manages to keep the weight down by ditching fancy visor mechanisms in favor of simple notches. Unfortunately, that also means replacing the inner padding with a mesh overlay. There are multiple inlets on the mouthpiece and chimney, as well as passive vents in the rear and chin, allowing for excellent airflow. Purchase