The busy summer months are just around the corner and you're probably getting your motorcycle ready to ride. This year, you've decided to venture to a few new states and possibly do that cross-country tour you've been wanting to do. Each state you cross through will have varying laws for safety equipment requirements and your motorcycle itself. Do you know them all?
We've put together a list of the top six most common laws you should be aware of in each state. Check out the maps to know what is legal and what's not in each state, so you can stay above the law on your grand tour.
Motorcycle Helmet Use Laws
The late 1960s, specifically 1967, was a time when the helmet laws changed dramatically. Before that year, helmets were something that "the losers" wore. Nobody "cool" was wearing a helmet on a motorcycle. That soon changed in 1967, when states were required to start mandating helmet use laws in order to qualify for certain federal safety programs and highway construction funds. Within a handful of years, the early 1970s saw almost all states enforcing a universal motorcycle helmet law. That stayed consistent until 1976 when states successfully lobbied Congress to stop the Department of Transportation from considering financial penalties on states without helmet laws in place.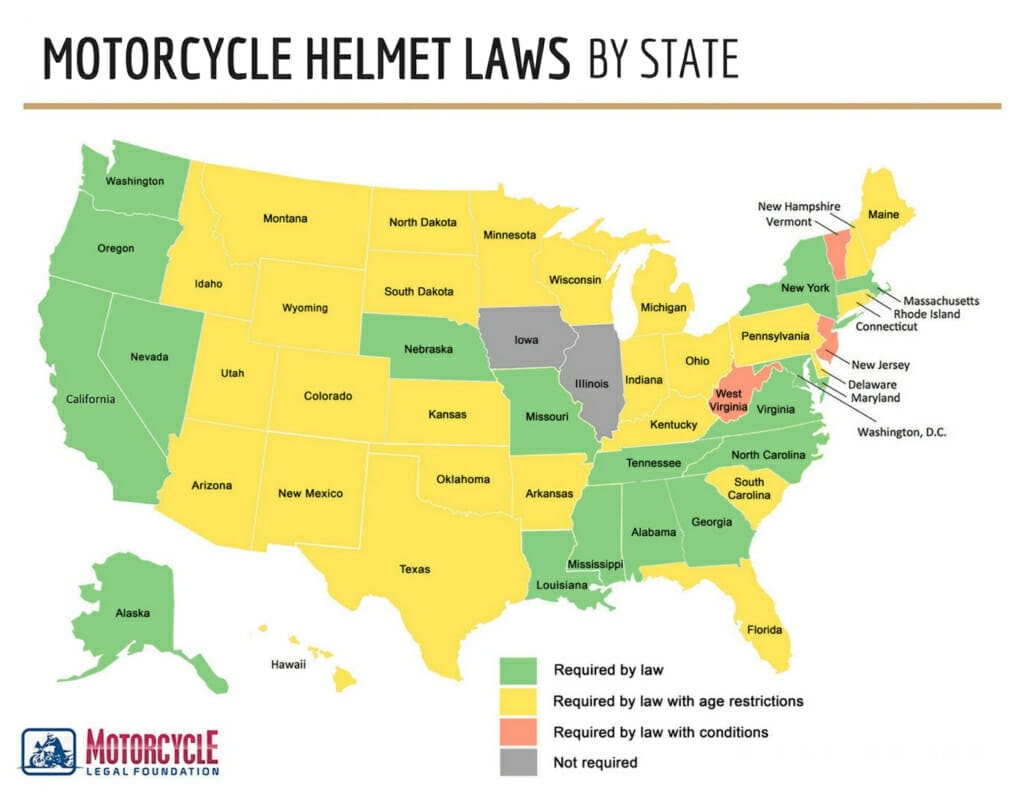 If you look through the motorcycle helmet laws in every state, you'll notice that some require a D.O.T. certified helmet, some just require a helmet for certain aged riders or under certain conditions, and there is a small number that doesn't require a helmet period. It's confusing, so let's take a look at the conditions you'll encounter as you ride across the country:
Required by law —These states require a helmet to be used on any motorcycle. You should be wearing a D.O.T. certified helmet, which means it has passed certification testing for impact resistance, penetration, and retention. The standard was recently modified in 2013, so if you have a specific question of what's covered, check out the NHTSA website. The certified helmet should have the manufacturer name, model, the text FMVSS218, and DOT on the helmet to signify it's been certified to meet the safety guidelines. These mandates usually cover both operators and passengers on the motorcycle.
Required by law with age restrictions — Some states only require a helmet to be used up to a certain age. It is usually between 17 and 20 years old, and it may or may not be applicable to both the passenger and operator.
Required by law with conditions — Beyond riding with a helmet, a handful of states require a helmet that's reflectorized. Reflectorization (also known as being retro-reflective) means that the helmet has added reflective tape, decals, or materials to help it stand out and visually catch your attention.
Not required — There are only two states that don't require a helmet on a motorcycle. They are in the middle of the United States, so unless you live in them, you're potentially going to need a helmet to get to them before you can take the helmet off and let your hair blow in the breeze.
Motorcycle Eye Protection Laws
The eye protection laws are thankfully a little easier to understand than the helmet laws in every state. Eye protection should be worn regardless of the laws, and it should be either a D.O.T. visor on your helmet, motorcycle glasses, or goggles. Your typical sunglasses aren't shatter-resistance, so leave your expensive sunglasses at home.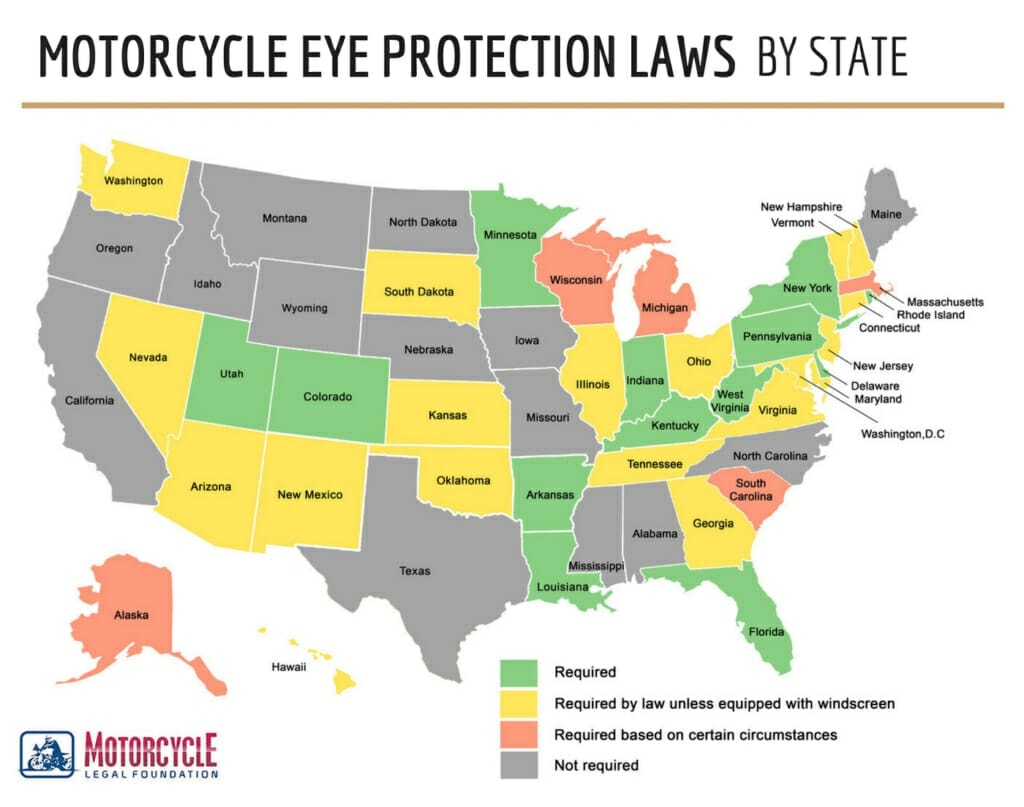 Required by Law — Twelve states require approved eye protection when on a motorcycle, whether you're a passenger or the operator.
Required by law unless fitted with a windscreen — Some states require eyewear unless you have a windscreen. Some states don't specify the size whereas others specify that it must be 15" above the handlebars. The purpose of a windscreen is to deflect oncoming air around you, which can help reduce fatigue from your body fighting against the wind while you ride. You can also view it as a protective shield that stops debris from the road from reaching you, but it's not a 100% guarantee.
Required by law with criteria — Three states have similar criteria with different notes on what is needed. Indiana requires eye protection if you're under 18 years of age, Massachusetts requires instructional permit holders to use eye protection unless you ride with a windscreen, and South Carolina requires riders under 21 years of age to use eye protection unless you have a windscreen.
No requirement — Fourteen states have no requirement for eye protection so you can ride as you please sans protection (but we still recommend wearing a visor or sunglasses to help with debris in the air!).
Motorcycle Noise Restrictions Laws
Most communities have noise ordinances restricting loud exhaust for their residents. You may not care about the loud exhaust on the open roads, but hearing your neighbor leaving for work at 6 am on his motorcycle with open exhaust can be frustrating. Only 10 states allow open exhaust with no requirement for a muffler. The other states have varying regulations, so here are what you can expect:
Mufflers required — Eleven states require mufflers on your motorcycle. There isn't a specified decibel level to stay under for loudness, but if you're inspected by the law, you'd better have a muffler on it.
Mufflers required with no modifications allowed — A handful of states require mufflers to be used and they can't be louder than the OEM exhaust that your motorcycle came with off the showroom floor.
Mufflers required (cut-outs or bypasses are illegal) — Other states require mufflers and don't allow for a cut-out or bypass to be added. A cut-out can be a mechanical or electrical device that allows the exhaust to go out a separate exhaust pipe bypassing the muffler. There may also be restrictions on straight pipes (exhaust pipes without a muffler).
No requirement — You're free to run what you want. Straight pipes, cut-outs for the open road, or just what the OEM sent on the motorcycle originally.
Motorcycle Passenger Laws
Riding with a passenger can be a great experience, and only five states have restrictions of any kind on a passenger joining you on the ride.
Passenger restrictions — Five states dictate that the passenger can't be under the age range of 5-8 years old.
No restrictions — The other 46 states/territories have no restrictions on passengers, however, you should still use your best judgment for your passenger. They need to have the same safety gear as the operator. ATGATT definitely applies.
Motorcycle Daytime Headlights Laws
Daytime headlight use, also called daytime running lights, is getting more common every passing year. The main reason headlights are used during daylight hours is safety. Although they are almost used all the time in some fashion, at one point headlights during the daylight hours weren't a common occurrence. They may not make a huge difference in bright sunlight, but in the shaded areas of a road or when sunlight is low, they can make a huge difference in your visibility to other motorists. For the sake of better safety, most states have adopted a headlight law.
Required by law — Eighteen states have a headlight law that it is required. It doesn't matter what model year you ride, the headlight must be on all the time. For those that have older models where the headlight has a switch, start practicing turning it on after you start the motorcycle.
Required and modulation allowed — Almost half of the United States allow for a "modulating headlight" to be used, and the headlight use is a requirement. That means your light can change between full power low beam and a dimming effect. It does not turn off and, but dims and goes back to full power over and over. This is more eye-catching to your fellow motorists and offers a better chance to be seen and recognized in traffic.
Required with model year stipulations — Seven of the states require headlights to be used after a certain model year, but the oldest allowed motorcycle is a 1956 model year in Indiana.
No requirement — As mentioned, very few states don't require a headlight to be used during the daylight hours. Without the requirement, we do recommend you stay in the practice of using it regardless.
Motorcycle Lane Splitting Laws
Lane splitting is a pretty controversial topic. Only California allows lane splitting of any kind, and some will debate it as a blessing while others claim it's a curse. Lane splitting is when a motorcycle rides between vehicles on the road. As we've discussed previously in our article on lane splitting, it can help with traffic congestion in large metropolitan areas, but also can be also extremely dangerous for motorcyclists. Beyond California, it isn't a documented legal riding practice and will most likely cause confusion or road rage from other motorists. Where it's not declared illegal, be careful doing it if you must.
Planning ahead for a long ride can be difficult as each state along the way can have different laws regarding safety equipment use, passengers, and motorcycle modifications. If you've ever seen a large group of endurance riders making the haul across the country, they follow ATGATT strongly and their motorcycles are oftentimes pretty similar to how they rolled off the showroom floor. Using the proper safety gear and riding a stock motorcycle is the easiest way to avoid attention from law enforcement. If you choose to vary from that, be cautious of the laws for each state you plan to ride in. A heavily modified motorcycle or limited safety gear can be a challenge to ride legally almost everywhere.
Legal
| State | Helmet Laws | Eye Protection Laws | Noise Laws | Passenger Age Restriction Laws | Daytime Use of Headlights Laws | Lane Splitting Laws | Headphones While Driving Laws |
| --- | --- | --- | --- | --- | --- | --- | --- |
| Alabama | Required by Law | Not Required | Not Required | No Restrictions | Modulating headlight permitted | Illegal | Illegal |
| Alaska | For passengers and for all under 18 | Required by law unless equipped with windscreen which is 15″ or higher above handlebars | Not Required | No Restrictions | Required by state law | Illegal | Legal |
| Arizona | Required by law under 18 | Required by law unless equipped with windscreen | Muffler required; no cutout, bypass, or similar device | No Restrictions | Modulating headlight permitted | Illegal | Not mentioned/not specifically prohibited |
| Arkansas | Required by law for under the age of 21 | Required by law | Not Required | Prohibits passengers under age 8. | Required by state law | Not mentioned/not specifically prohibited | Legal |
| California | Required by Law | Not Required | Muffler required; no cutout, bypass, or similar device | No Restrictions | Required for vehicles manufactured during or after 1978 | Legal | Illegal except if only covering one ear |
| Colorado | Required by law under age 18 | Required by law | Required | No Restrictions | Modulating headlight permitted | Illegal | Illegal except if only covering one ear |
| Connecticut | Required by law under age 18; required for instructional permit holders | Required by law unless equipped with windscreen | Muffler required, baffles required, no cut-outs or straight pipes | No Restrictions | Required for vehicles manufactured during or after 1980 | Illegal | Illegal except if only covering one ear |
| Delaware | Required by law under age 19 | Required by law | Required | No Restrictions | Modulating headlight permitted | Not mentioned/not specifically prohibited | Not mentioned/not specifically prohibited |
| Florida | Required by law for under the age of 21 (with a minimum of $10,000 in medical insurance) | Required by law | Muffler required, modifications to increase sound level prohibited | No Restrictions | Required by state law | Illegal | Illegal |
| Georgia | Required by Law | Required by law unless equipped with windscreen | Not Required | No Restrictions | Required by state law | Illegal | Illegal |
| Hawaii | Required by law under age 18 | Required by law unless equipped with windscreen | Muffler required, modifications to increase sound level prohibited | Prohibits passengers under age 7 | No Restriction | Illegal | Not mentioned/not specifically prohibited |
| Idaho | Required by law under age 18 | Not Required | Muffler required, no cut-outs, and modifications to increase sound level prohibited | No Restrictions | Modulating headlight permitted | Illegal | Not mentioned/not specifically prohibited |
| Illinois | Not Required | Required by law unless equipped with windscreen | Muffler required, modifications to increase sound level prohibited | No Restrictions | Required by state law | Illegal | Illegal except if only covering one ear |
| Indiana | Required by law under age 18, required for instructional permit holders | Required by law under age 18 | Required, cut-outs prohibited | No Restrictions | Required for vehicles manufactured during or after 1956 | Illegal | Not mentioned/not specifically prohibited |
| Iowa | Not Required | Not Required | Not Required | No Restrictions | Required for vehicles manufactured during or after 1977 | Illegal | Illegal |
| Kansas | Required by law under age 18 | Required by law unless equipped with windscreen | Muffler required, cutouts and bypasses prohibited | No Restrictions | Required for vehicles manufactured during or after 1978 | Illegal | Illegal |
| Kentucky | Required by law for under the age of 21; required for instructional permit holders | Required by law | Muffler required, no cut-outs, and modifications to increase sound level prohibited | No Restrictions | Modulating headlight permitted | Not mentioned/not specifically prohibited | Legal |
| Louisiana | Required by Law | Required by law unless equipped with windscreen | Required | Prohibited under 5 years of age. Child must be properly seated. Helmet required; | Modulating headlight permitted | Illegal | Illegal |
| Maine | Required by law under age 18; required for instructional permit holders | Not Required | Required | No Restrictions | Required by state law | Illegal | Not mentioned/not specifically prohibited |
| Maryland | Required by Law | Required by law unless equipped with windscreen | Muffler required, modifications to increase sound level prohibited | No Restrictions | No Restriction | Illegal | Illegal |
| Massachusetts | Required by Law | Required by law for instructional permit holders unless equipped with windscreen | Required | No Restrictions | Modulating headlight permitted | Illegal | Illegal |
| Michigan | Required by law for under the age 21 | Required by law unless equipped with windscreen; Required at speeds over 35 mph | Required, cut-outs prohibited | No Restrictions | Modulating headlight permitted | Illegal | Not mentioned/not specifically prohibited |
| Minnesota | Required by law under age 18; required for instructional permit holders | Required by law | Muffler required, modifications to increase sound level prohibited | No Restrictions | Required by state law | Illegal | Illegal |
| Mississippi | Required by Law | Not Required | Required, cut-outs prohibited | No Restrictions | Modulating headlight permitted | Not mentioned/not specifically prohibited | Not mentioned/not specifically prohibited |
| Missouri | Required by Law | Not Required | Required | No Restrictions | Modulating headlight permitted | Not mentioned/not specifically prohibited | Legal |
| Montana | Required by law under age 18 | Not Required | Required | No Restrictions | Required by state law | Not mentioned/not specifically prohibited | Not mentioned/not specifically prohibited |
| Nebraska | Required by Law | Not Required | Required, cut-outs prohibited | No Restrictions | Modulating headlight permitted | Illegal | Illegal except if only covering one ear |
| Nevada | Required by Law | Required by law unless equipped with windscreen | Muffler required, cutouts and bypasses prohibited | No Restrictions | Modulating headlight permitted | Illegal | Not mentioned/not specifically prohibited |
| New Hampshire | Required by law under age 18 | Required by law unless equipped with windscreen | Required, cut-outs prohibited | No Restrictions | Modulating headlight permitted | Illegal | Illegal |
| New Jersey | Required by law; reflectorization required | Required by law unless equipped with windscreen | Not Required | No Restrictions | Modulating headlight permitted | Illegal | Legal |
| New Mexico | Required by law under age of 18 | Required by law unless equipped with windscreen | Not Required | Required, cut-outs prohibited | Modulating headlight permitted | Not mentioned/not specifically prohibited | Not mentioned/not specifically prohibited |
| New York | Required by Law | Required by law | Muffler required, no straight pipes or removal of baffles; modifications to increase sound level prohibited | No Restrictions | Required by state law | Illegal | Illegal |
| North Carolina | Required by Law | Not Required | Required, cut-outs prohibited | No Restrictions | Required by state law | Not mentioned/not specifically prohibited | Illegal |
| North Dakota | Required by law under age 18 | Not Required | Muffler required, cutouts and bypasses prohibited | No Restrictions | Modulating headlight permitted | Illegal | Illegal except if only covering one ear |
| Ohio | Required by law under age 18 | Required by law unless equipped with windscreen | Required, cut-outs prohibited | No Restrictions | Modulating headlight permitted | Not mentioned/not specifically prohibited | Illegal except if only covering one ear |
| Oklahoma | Required by law under age 18 | Required by law unless equipped with windscreen | Muffler required or any other effective noise-suppressing system in constant operation | No Restrictions | Required by state law | Not mentioned/not specifically prohibited | Not mentioned/not specifically prohibited |
| Oregon | Required by law | Not Required | Required | No Restrictions | Required by state law | Illegal | Legal |
| Pennsylvania | Required by law under age 21 | Required by law | Muffler required, modifications to increase sound level prohibited | No Restrictions | Required for vehicles manufactured during or after 1986 | Illegal | Illegal except if only covering one ear |
| Rhode Island | Required by law under age 21 | Required by law | Required, cut-outs prohibited | No Restrictions | No Restriction | Illegal | Illegal |
| South Carolina | Required by law under age 21 | Required by law under age 21, unless equipped with windscreen | Required, cut-outs prohibited | No Restrictions | Required by state law | Illegal | Illegal |
| South Dakota | Required by law under age 18 | Required by law unless equipped with windscreen | Required, cut-outs prohibited | No Restrictions | Modulating headlight permitted | Illegal | Illegal |
| Tennessee | Required by Law | Required by law unless equipped with windscreen | Required, cut-outs prohibited | No Restrictions | Required by state law | Illegal | Not mentioned/not specifically prohibited |
| Texas | Required by law under age 21 | Not Required | Not Required | Prohibits passengers under age 5, unless seated in a sidecar attached to the motorcycle | Required for vehicles manufactured during or after 1975 | Not mentioned/not specifically prohibited | Illegal |
| Utah | Required by law under age 18 | Required by law | Required, cut-outs prohibited | No Restrictions | Modulating headlight permitted | Illegal | Illegal |
| Vermont | Required by law; reflectorization required | Required by law unless equipped with windscreen | Not Required | No Restrictions | Modulating headlight permitted | Illegal | Not mentioned/not specifically prohibited |
| Virginia | Required by Law | Required by law unless equipped with windscreen | Required | No Restrictions | Modulating headlight permitted | Illegal | Illegal |
| Washington | Required by Law | Required by law unless equipped with windscreen | Required | Prohibits passenger under age 5 | Required by state law | Illegal | Illegal |
| Washington DC | Required by Law | Required by law unless equipped with windscreen | Muffler required, modifications to increase sound level prohibited | No Restrictions | Modulating headlight permitted | Illegal | Illegal |
| West Virginia | Required by law; reflectorization required | Required by law | Required | No Restrictions | Required by state law | Not mentioned/not specifically prohibited | Not mentioned/not specifically prohibited |
| Wisconsin | Required by law under age 18; required for instructional permit holders | Required by law unless equipped with windscreen which is 15″ or higher above handlebars | Required, cut-outs prohibited | No Restrictions | Required by state law | Illegal | Not mentioned/not specifically prohibited |
| Wyoming | Required by law under age 18 | Not Required | Not Required | No Restrictions | Required by state law | Illegal | Not mentioned/not specifically prohibited |